Stainless Steel Metric Phillips Flat Head Machine Screw Kit with Hex Nuts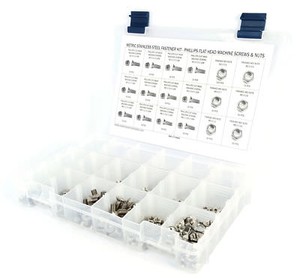 ---
Add Albany County Fasteners to your Favorites and receive our email newsletters about new items and special promotions!
General Interest

A2 Stainless Steel Metric Phillips Flat Head Machine Screw Kit - 676 Pieces

PRODUCT SPECIFICATIONS
Item Condition:
New
Brand:
Albany County Fasteners
Fastener Type:
Phillips Flat Head Machine Screws
Grade/Material:
A2 Stainless Steel
Size Range:
M2 through M8
Total Pieces:
676
Other:
Hand Picked and Assembled By Our In House Staff

Flat Head Metric Machine Screw Assortment Kit

Stainless Steel Metric Phillips Flat Head Machine Screws with Matching Hex Nuts

Stainless steel Phillips flat head machine screw kits bring the convenience of having a range of sizes and having the matching nut readily available. All organized into a simple and durable plastic kit.

  676 Piece   A2 Stainless steel phillips flat head machine screw kit   Metric sizes: M2 through M8   Screws up to 16mm in length   Durable Heavy Plastic Box with Interchangeable Tray   Box Dimensions: 11" (length) x 7.25"(width) x 1.75"(depth)                                        

        Hex Machine Screw Nuts  
    Phillips Flat Head Machine Screws  
         M2 x 0.4 - 100pcs  
    M2 x 0.4 x 6M - 50pcs      
    M2 x 0.4 x 12M - 50pcs  
    M3 x 0.5 - 75pcs  
    M3 x 0.5 x 6M - 50pcs  
    M3 x 0.5 x 12M - 25pcs  
    M4 x 0.7 - 50pcs  
    M4 x 0.7 x 6M - 25pcs  
    M4 x 0.7 x 12M - 25pcs  
    M5 x 0.8 - 50pcs  
    M5 x 0.8 x 10M - 25pcs  
    M5 x 0.8 x 12M - 25pcs  
    M6 x 1.0 - 50pcs  
    M6 x 1.0 x 10M - 25pcs  
    M6 x 1.0 x 12M - 25pcs  
    M8 x 1.25 - 50pcs  
    M8 x 1.25 x 12M - 25pcs  
    M8 x 1.25 x 16M - 25pcs  

Payments

We accept payments through checkout, PayPal, Skrill/MoneyBookers or ProPay. You can make payment with your credit or debit card through checkout.

Preferred Method: PayPal

Shipping

Free standard shipping to all 50 States.

All packages shipped with invoice of the order.

ALL Orders containing 4 or more unique items will be upgraded to ship via Priority Mail for FREE.

Handling Time: 1 day handling Monday through Friday after cleared payment for all in stock products. We only ship Monday through Friday excluding all holidays.

International Shipping: We ship under the Global Shipping Plan and your items are combined into one order through checkout. All items are combined into one box not to exceed 12 items and 66 lbs and are shipped to an USA central location, and then forward to your country. Under the Global shipping plan, collects all shipping and customs fees up front and is handled by .

For all orders outside of the Global Shipping Plan, please contact us for a rate before purchasing. All customs delays, fees and duties are born and paid by the buyer. We cannot control customs thus AlbanyCountyFasteners-NY takes no responsibility for delay in the delivery of your package. In addition, should we miss calculate the shipping cost, AlbanCountyFasteners-NY will contact via messages the buyer before shipping the products for all additional costs. Should the buyer not pay the additional requested costs, we will refund your total purchase and void your order.

Product Packaging

To "go green" and reduce our use of plastic all product quantities will be packaged in as few packages as possible.

Returns

Returns are accepted for 30 days from purchase date by contacting us for a RMA number. Buyer pays return shipping and insurance costs. Returned open packages will be subject to partial refunds.

Please Note: Returns, cancellations or exchanges must be completed using 's formal return or Cancellation Process. Once an order has been placed, Returns, Cancellations or substitutions cannot be made through buyer/ direct messaging.

Contact Us

You may contact customer service M-F 8AM to 5PM Standard Eastern Time

All rights reserved copyright photos, listing, headings and descriptions.