Pure 10% Capsaicin Oil Oleoresin Capsicum 1/4 Oz - 7.1 grams - 1,600,000 SHU!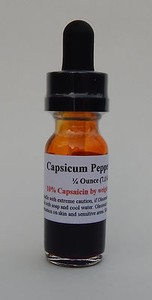 ---
----- 7.1 gram Vial of Pure Natural Water Soluble 10% Capsaicin Extract (Oleoresin Capsicum) from Capsicum Annuum Hot Peppers ----This listing is for a 1/4 ounce (7.1 gram) bottle of food-grade Capsicum Oleoresin, containing over 10% Capsaicin by weight (over .71 grams). It is water and oil-soluble and can be used to fortify many dishes or sauces, create cost-effective pain-relief creams, devise pest-deterrent treatments or create one's own blend of pepper spray. It is packaged in a glass bottle with a child-resistant glass eyedropper cap, secured with a perforated band, placed in a zip-lock bag then sealed in a plastic pouch to maintain the integrity of this fine product. This oil registers at a respectable 1,600,000 Scoville Heat Units, so a little will go a long way. For example, 1 gram dissolved and blended in 1 kilogram (2.2 pounds) of food or sauce would impart a heat of 1,600 SHU. Frank's Red Hot sauce, for example, has a rating of a mere 500 SHU.1 and 1/2 ounce vials are also available, check my other listings if interested!When handling the product, extreme care must be observed. Gloves and a disposable mat for absorbing accidental drips are highly recommended, and if possible should be done outside or in an area where spills wouldn't be as troublesome. Invisible amounts can cause great pain anywhere on the body, especially the eyes, face and sensitive areas so respect and care is imperative. Mixing the oleoresin into a product must be done extremely thoroughly so that the material is completely homogenized, and no small globules or other concentrations remain.

Important Information:

This product is soluble in water and will easily dissolve in oils/fats. You could easily create a superior fire-oil to flavor dishes with, without imparting a potentially unwanted vinegar flavor by dissolving a small quantity of Capsicum Oleoresin in a large volume of oil (Vegetable, Olive, Sesame, etc). PLEASE BE CAREFUL.In very small amounts (do your math), it can be used to fortify flavorful hot sauces that aren't as spicy as you would like, or to aid in the manufacture of your own "thermonuclear" hot sauces or salsas. Be sure to blend it extensively and let it sit for a while to allow the Oleoresin to dissolve and diffuse throughout the product.It could potentially be used as a deterrent to rodents/pests, but it must not be used in ways which would allow it to be tracked in areas that humans or pets come into contact with.Some people are allergic to hot peppers. They will also be allergic to Oleoresin Capsicum, so if you have adverse reactions to hot peppers, or are taking medications (such as certain heart/blood pressure medicines) which interact with Capsaicin or hot peppers, do not buy or use this product.Disclaimer: This product is 1.5X hotter than the spiciest fully dried naturally occurring plant material on this earth. It is EXTREMELY spicy, and if used for culinary purposes must be used exceedingly sparingly. When handling you must wear rubber, latex, or vinyl gloves, and ideally goggles or some other form of eye protection and a mask, as the fumes will be very irritating to the nose/sinuses. ALWAYS remove your gloves with extreme care after done handling, and then wash your bare hands and arms with soap and water, even if you don't think that you got any Oleoresin on you. Even microscopic amounts can cause immense discomfort for the unwary.The minutest traces can cause intense pain to bare skin, and especially mucous membranes. I, the seller, will assume no responsibility or liability whatsoever from the use or misuse of this product.Shipping Terms: Free shipping within the USA is offered via USPS 1st class mail, however if you require more expedited USPS Priority Mail shipping that option is available. International shipping will be via USPS 1st Class International mail. Please feel free to contact with any inquiries.