*NEW*ENT (Ear,Nose &Throat) Diagnostic,Otoscope,Ophthalmoscope set W/Zipper Case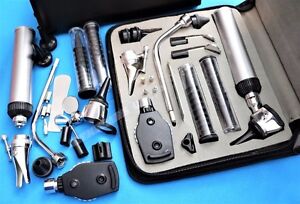 ---
AVON SURGICAL.  ARE PRODUCED TO IT RIGID QUALITY CONTROL STANDARD AND IS UNCONDITIONALLY GUARANTEED TO BE FREE ROM DEFECT IN MATETIAL AND WORKMANSHIP. OUR SURGICAL INSTRUMENTS ARE GMP,CE AND ISO 9002 CRTIFIED WHACH IS A SIGN OF PREMIUM STANDARD AT HIGHEST LEVEL.NEW ORIGINAL CYNAMED BRANDED  Professional 2.5V ENT Diagnostic OTOSCOPE Set,Ophthalmoscope, Otoscope-A+QUALITY ALL IN ONE Note : other seller selling our copied cheap set do match the quality before buy from any where our otoscoope sets are highly modern diagnostic set features a 2.5 Volt halogen bulb for superior brightness and an even better view come with cynamed brand logo on the product  
Product Features

You'll love the chrome-plated look and feel of this CyNaMeD Professional 2.5V Otoscope & Ophthalmoscope Instrument Set. This modern diagnostic set features a 2.5 Volt halogen bulb for superior brightness and an even better view.
CyNaMeD Ophthalmoscope head with lens wheel
24 corrective lenses from -25 to +40 diopters
Bayonet locking mount

CyNaMeD Otoscope head with removable 3x magnifying lens and insufflator fitting
2.5V vacuum lamp for direct illumination
Bayonet locking mount

 Throat Illuminator with chrome-plated bent arm illumination
Includes nasal specula and tongue depressor
3.0mm and 4.0mm mirror attachments
 disposable polypropylene ear specula in sizes 2.75mm TO 4.25mm

2.5V C-cell battery powered handle with knurled brass handle grip
Rheostatic on/off switch and illumination control
Adapter to switch between specula

Includes zippered case with scratch-resistant fitted insert padding
C-cell battery not included
One Year Warranty
Product Description
This is a BRAND NEW, Physician Quality Complete E.N.T. Diagnostic Set in a a lined and cushioned impact resistant lightweight but tough zippered case. Powered by 2 standard C sized batteries, rechargables also work well. The instrument handle utilizes a bayonet luer-locking mechanism for changing the multiple instrument heads included in the kit. The luer locking style is guaranteed to never wear out. The Otoscope lens is an Optical quality GLASS that is specially-coated to help resist scratches. The lens is hinged and swings out of the way if needed for foreign body removal or cleaning. The kit also includes an expandable nasal speculum, a bent arm trans-illuminator with a tongue blade holder, tongue blade, and 2 attachable #3 and #4 laryngeal mirrors useful for examination of the oro-pharynx. The kit contains an ophthalmoscope that contains a complete set of lens from -25 to +40 diopters.
SAME AS PICTUREEXCELLENT QUALITY OFDIAGNOSTIC SET, PREMIUM QUALITY! BRAND NEW!!! 
 ONE HANDLE, 3 EAR SPACULA, 1 ILLUMINATOR, 3 MIRRORS, 1 NASAL ADAPTER, 1 HEAD LENS WHEEL,2 BOTTLE SPARE SPECULA4 FREE EXTRA BULBThe key features are:Screw locking mounts for each instrument head to allow secure connection to the battery handle "C" Cell powered. Stain Finish chrome batter handle Rheostatic on / off switch Total attachments 13, these features of each instrument are below:1. Otoscopea)  Chrome plated otoscope head with removable 4x magnifying lens and inufflator fittingb)  2 Bottles containing 20 spear mini specula size 2.5 mm to 4.0 mmc) Nasal speculum adaptor with manual screw opening for instrument connected to the otoscope head 2. Opthalmoscopea)  Opthalmoscope head with lens wheel featuring 25 corrective lens from -25 to +40 diopters3. Bent Arm Illuminatora) Chrome plated bent arm larynx with a bulb  b) Laryngeals Mirrors (size 3 & 4)d) One tongue depressor4. Light weight leather case with zip around SAME AS PICTUREAN EXCELLENT ITEM.100% SATISFACTION GUARANTEED. BUY WITH COMPLETE CONFIDENCE.IF YOU ARE ORDERING MORE THAN ONE ITREM OR AUCTION, PLEASE WAIT FOR AN INVOICE SO WE CAN COMBINE YOUR SHIPPING CHARGES CORRECTLY.SHIPPING CHARGES ARE NON REFUNDABLE. ALL ITEMS RETURNED MUST INCLUDE AN ORIGNAL PACKING MATERIAL. AN EXCELLENT ITEM.100% SATISFACTION GUARANTEED. BUY WITH COMPLETE CONFIDENCE..SHIPPING: THE ITEM WILL BE SHIPPED WITHIN 1-2 BUSINESS DAYS AFTER PAYMENT IS RECEIVED.
  Important Information About Our Policies and Feedback ·         We Try Our Best To Describe The Products As Accurate As Possible. Please Read Our Auction Very Carefully!!!
·         We Find It Very Helpful if you would e-mail us before leaving a NEGATIVE FEEDBACK As To The Reason Why; To Help Improve Customer    Service.NEGATIVE FEEDBACK Is Very Detrimental To Our Success On ; We Strive To Make Every Customer Happy And We Hope    NEGATIVE.FEEDBACK Will Be Used As a Last Resort If We Could Not Remedy the situation.
·         We Gladly Appreciate Customer Feedback to improve our sales on .