Christmas In Connecticut & It Happened On 5th Avenue Plus 2 Others BRAND NEW DVD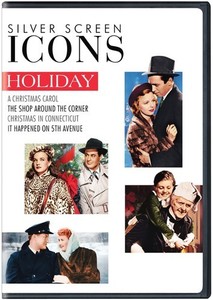 ---
THIS DVD IS BRAND NEW & FACTORY SEALED!!A CHRISTMAS CAROL (1938) Reginald Owen portrays Charles Dickens' holiday humbug Ebenezer Scrooge, the miser's miser who has a huge change of heart after spirits whisk him into the past, present and future. From sets to stars to story, this triumphant adaptation adds a glow to the season. Like Tiny Tim's benediction, it blesses us - every one. CHRISTMAS IN CONNECTICUT (1945) A magazine columnist totally devoid of the homemaking skills espoused in her column had better get some fast: her boss has invited himself and a recently returned war hero to her home for Christmas. Laughs, romance, holiday cheer: that's the recipe Barbara Stanwyck and a stellar company follow in this perennial favorite. IT HAPPENED ON 5th AVENUE Home for the holidays! GI families hit by the post-World War II housing crunch take over an abandoned New York City mansion.We have been in business since 1992. 

We bring you the best cd's out there at great prices. 

We will be listing many more cd's in the upcoming weeks so please check back with us. 

Thanks Again for checking us out!